Puerto Rico Re_Start International Workshops 1, 2, 3, 4 & 5
PR_RS 5
Puerto Rico Re_Start International Project + Research Workshop V, to be held on March 17th-26th 2023 based at the Polytechnic University of Puerto Rico, will examine and generate proposals for the Cordillera Central, the water resources, human settlements, productive activities, connectivity, conservation of natural resources, and lifestyles. The workshop will focus on the resilience of the river basins and the viability of rivers for energy generation and livelihood. For more information: puertoricorestart@gmail.com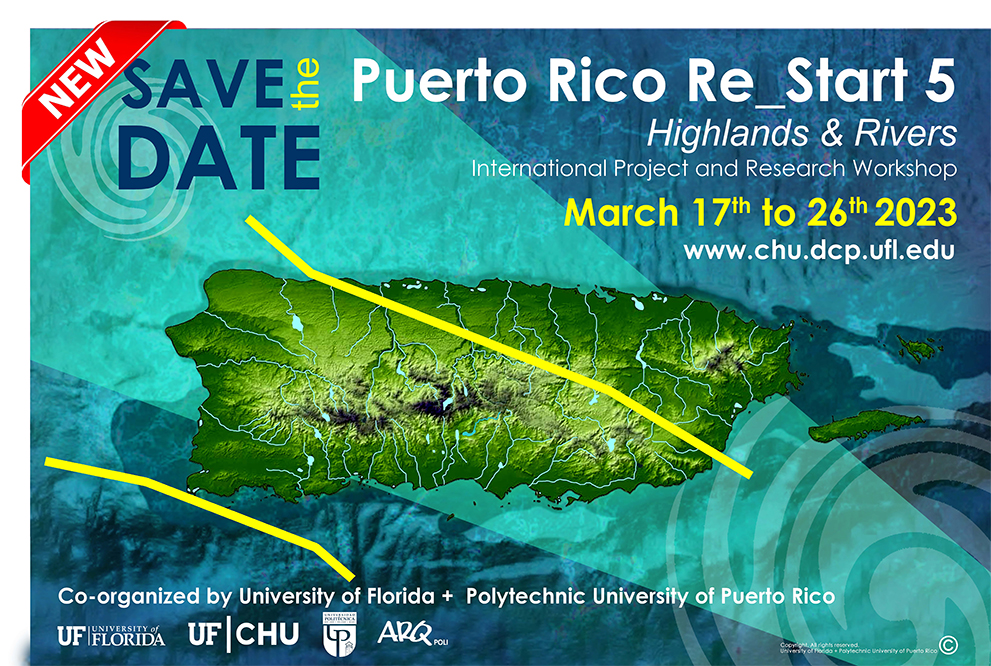 PR_RS 4
Finally, after performing the Puerto Rico Restart 3 (PRRS3) suddenly completely online in March 2020, (in a very hasty restructuring as the Pandemic conditions arrived) and having postponed PRRS 4 twice along 2021, for the same reasons, affecting both Florida and PR, were able to reengage this Spring 2022 our in-person program on the Island. The PRRS 4 format has been adjusted to the difficult conditions of our Island partners, the Polytechnic University of Puerto Rico and the University of Puerto Rico, with whom we maintain active Cooperative Agreements. The format took place as a School of Architecture DCP, UF 4th year Senior Architectural Design 8 course under the instruction of Assoc. Professor Nancy Clark was concluded at the end of the Spring term. The course is entitled: Puerto Rico Project: The East Region 2045, Layers of Resiliency. To request a full copy please email: puertoricorestart@gmail.com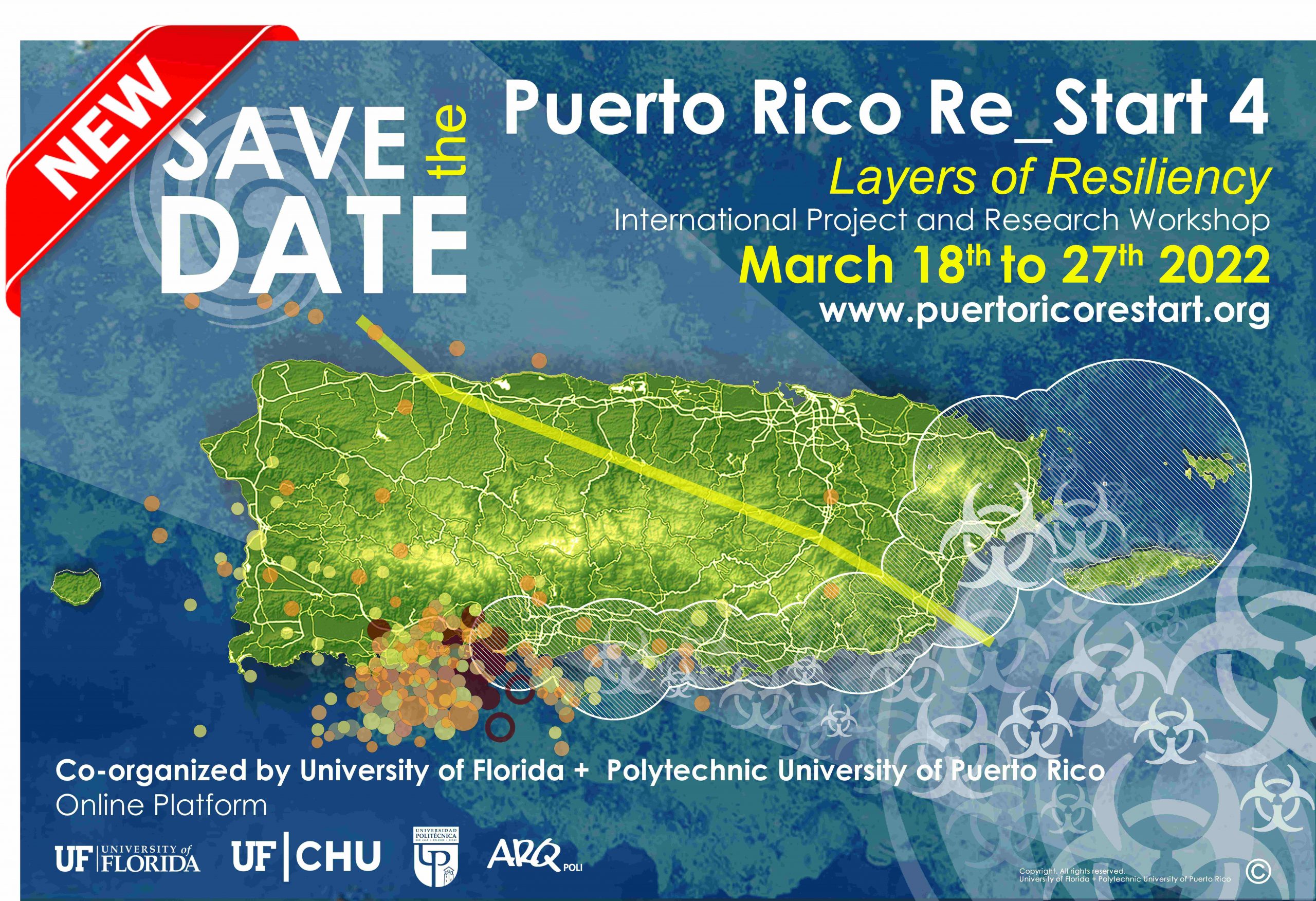 PR_RS 3
In the wake of the catastrophic impact of Hurricanes Irma and Maria, the recent earthquakes in the southwestern region, the global pandemic, and the depleted socio-economic conditions, the Island became a necessary field for advancing proposals addressing the preservation of the natural resources while elevating the human settlement conditions to procure a viable future. The following Executive Summary gathers a glimpse of the 41 projects presented during the past workshop that range from transportation to housing, to new tourism strategies. To request a full copy please email: puertoricorestart@gmail.com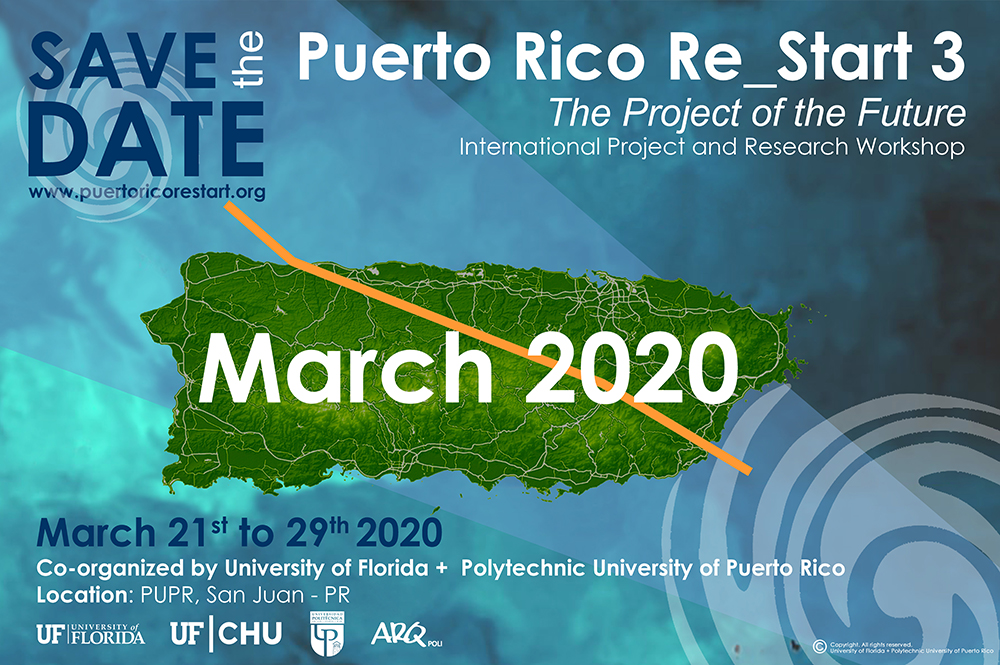 PR_RS 2
Following the successful completion of PR_RS 1 in March 2018, responding to the aftermath of the Hurricanes Irma and Maria, the University of Florida and the Polytechnic University of Puerto Rico prepared the second edition held at the PUPR Campus in San Juan. The PR_RS 2 addressed the holistic ideas for intersectoral and interdisciplinary integrative proposals, and opened new areas for innovative research and visionary projects under the ambitious goal of a Sustainable and Resilient Puerto Rico for 2045.  An interdisciplinary group of Academics, Administrators, Agencies and Consultants, discussed in a compressed time frame modality, holistic ideas and strategies for the Resilient Reconstruction of the Island. The programs were developed for the Northern, Atlantic facing Region of the Island, encompassing mountains, hills, plains, rivers and coasts, human settlements and infrastructural assets.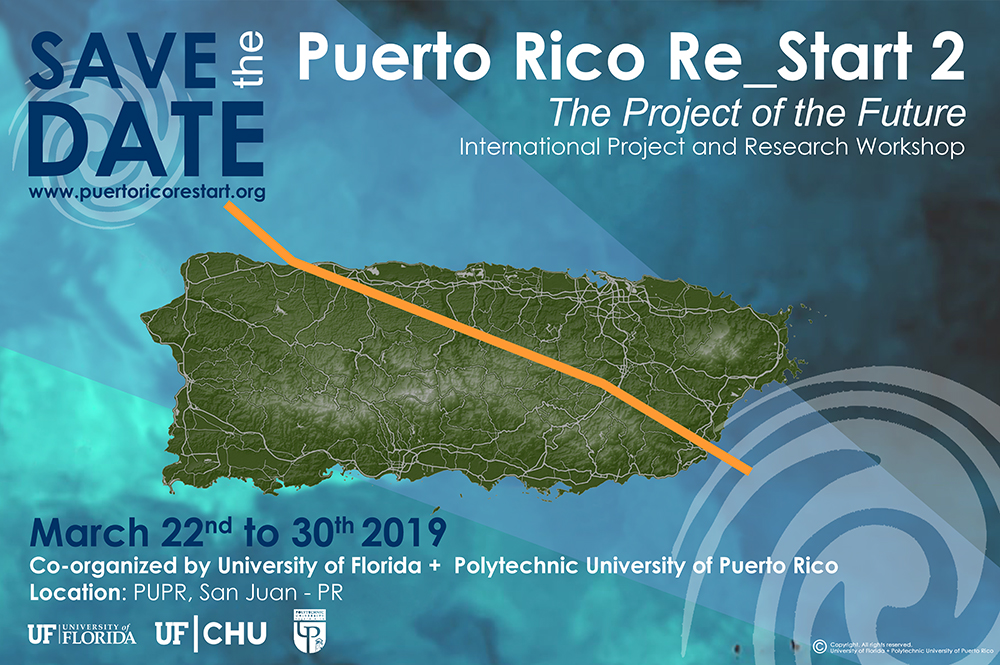 PR_RS 1
Was held in March gathered the support of The Chancellor of the University of Puerto Rico, the Dean of Architecture UPR, the UNESCO Chair in Sustainable Urban Quality and Culture Rome, the UF Center for Latin American Studies, the UF International Center, the UF Office of Research, the College of DCP, the School of Architecture, the Shimberg Center, CityLab Orlando, the Center for Puerto Rican Studies, Hunter College, City University in New York, the University of Rome, La Sapienza, the University of Seville, Spain, the New York Institute of Technology, the Politecnico di Torino, the University Politecnica of Puerto Rico and the University of Turabo.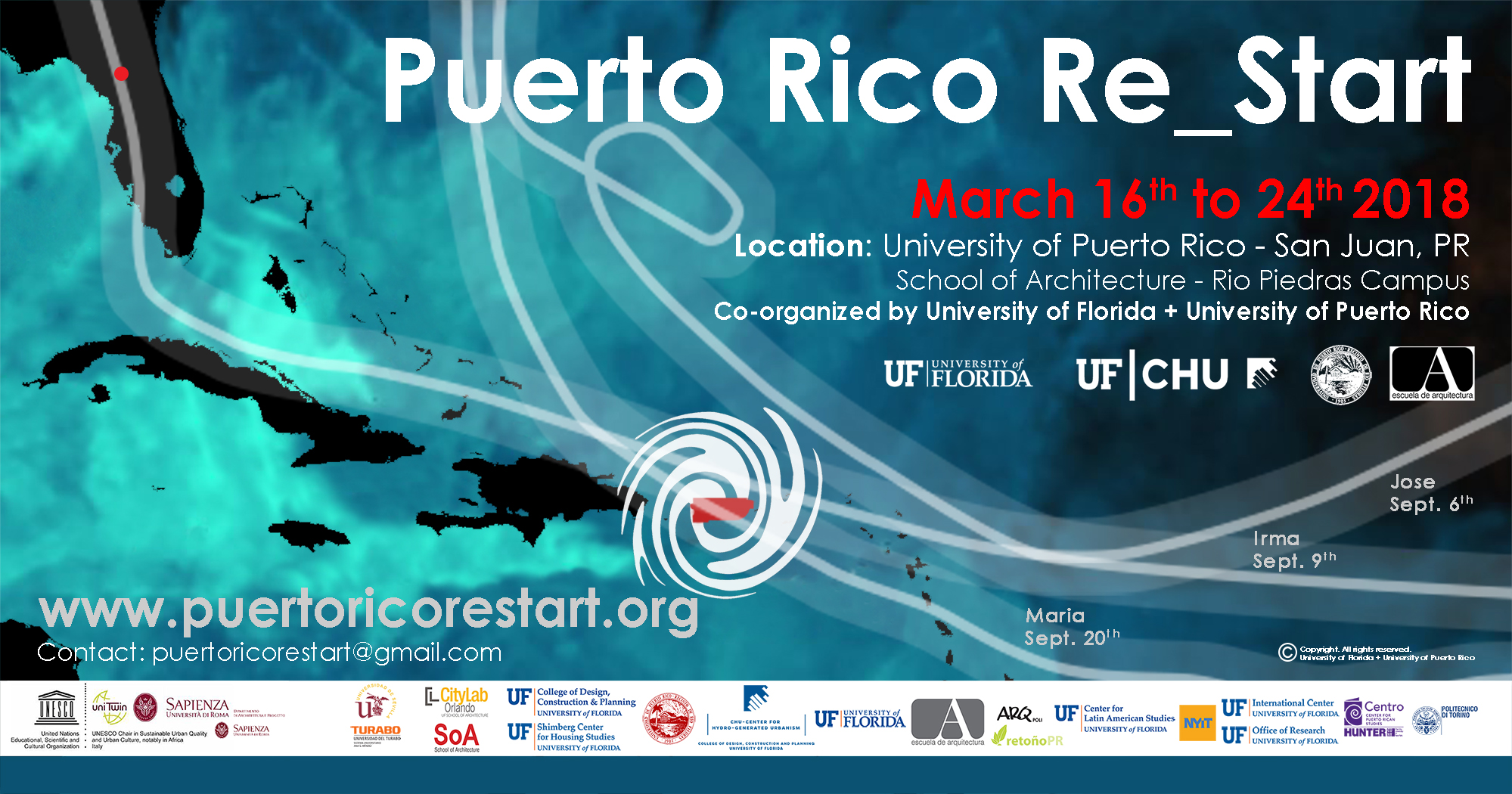 PR_RS Prep
After the consequential Hurricanes Irma and Maria passage through Puerto Rico and the Caribbean Islands, the Office of Research VP Dr. David Norton opened the possibility of supporting faculty and graduate students from the University of Puerto Rico and Virgin Islands for a limited stay at UF. We were able to receive 3 faculty members and 7 students for 4 weeks in October 2017. The Center for Hydro-generated Urbanism (CHU-DCP) acted as the host of the activities and actively engaged in logistics and academics with the SOA visitors. Sponsored by Dean Chimay Anumba from the College of Design, Construction, and Planning (DCP), and Director Jason Alread from the School of Architecture, we developed jointly the ideas for an International Project + Research Workshop, to be held yearly in Puerto Rico. The first edition took place in 2018 from March 16th to 25th.